34x Totems for automatic road closure
Closing roads without human handcraft
Have a look at the pictures
Swiss government aims for zero fatal accidents per year
In the future it will be compulsory in Switzerland to install road blocks on motorways, where direct operations are no longer carried out by road workers. This should become automated , so that the road workers are no longer in unsafe workplaces during the build-up and dismantling of the road works.
These are measures taken from the Swiss government with the aim of zero striving for zero road deaths per year.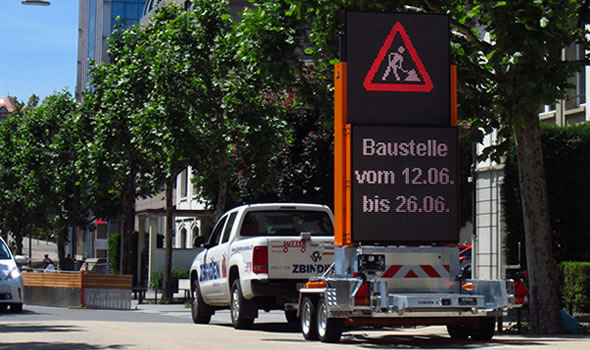 A remarkable piece of work by Zbinden
Our dealer in Switzerland has developed total concept . The concept consists of a trailer with two footpieces on which the Totems are placed. The trailers are equipped with a tipping system and belt transport for loading and unloading the Totems.
All functionalities are operated from the towing vehicle . Here the driver operates the trailers, bringing up and down the LED display and managing the right animation on the VMS-sign via Traffic Fleet .
About Zbinden Posieux SA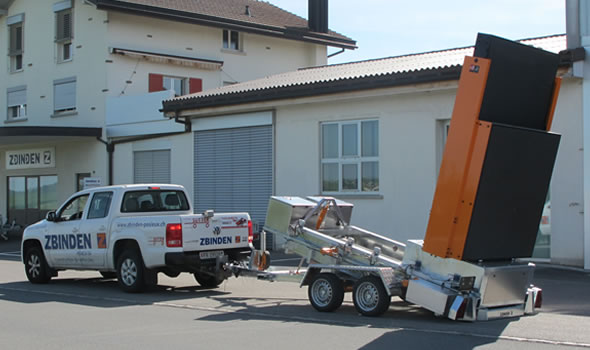 Zbinden Posieux is a great family business that is established in 1946. Starting after the World War two as trailer and agricultural mechanization company, later developed further in the trailer market for traffic works.
To meet the need of production capacity Zbinden added a new metal sheet department next to the building.
Ten years ago, the third generation has entered the business. Large national contracts and a vast number of investments made the company grow to a new level.
Today, Zbinden Posieux focuses mainly on niche markets where a lot of expertise for the development of innovative products and the use of new techniques is required. The company's activities are divided into five areas:
Car body construction
trailer brand dealer
Industrial sheet metal work
Machine construction
Advice and technical development