Truck mounted attenuator – TMA-02
Truck mounted attenuator – TMA-02
A truck mounted attenuator (TMA) is used to establish an optimal and safe traffic situation for motorists and roadworkers. Thanks to a 100K attenuator, a work space is created, which ultimately results in an improved traffic flow. The TMA can be used on highways and regional roads.
Rapid low-cost repairs thanks to a modular structure
The chassis and 100K attenuator of our TMA are both modular. In case of a collision or damage, the repair costs are lower and the repair time is shorter compared to a fully welded chassis.
We have all parts available in stock and we can dispatch throughout Europe. Our 100K attenuator can be spray painted and dispatched within one workday. You can mount the attenuator independently on your TMA.
TMA-02-A – A truck mounted attenuator with warning arrow
The upper frame of our TMA-02-A is completely constructed from galvanised aluminium. An warning arrow, with 12 alternating energy efficient LED lights, is mounted onto the upper frame.
Below this LED arrow an adjustable arrow traffic sign is mounted, which adjusts to the designated direction of the LED arrow. On the lower part of the frame a hydraulic pump unit and the batteries are mounted in lockable control boxes.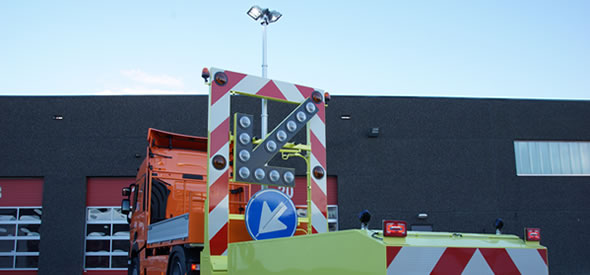 TMA-02-I – A truck mounted attenuator with LED display
An energy efficient ECO LED display from Swarco is mounted in the upper frame of our TMA-02-I. This enhances your visibility during roadworks.
Furthermore, the upper frame of our TMA has multiple functionalities e.g. different traffic signs, bespoke texts and the ability to switch rapidly.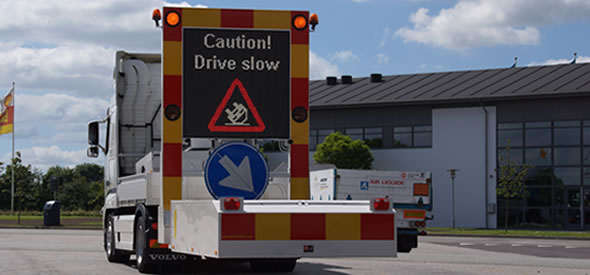 Produced in accordance with CE and NCHRP 350 regulations
Our 100K attenuator has been produced in accordance with the American NCHRP 350 regulations, which ensures that the TMA is safe in multiple worst-case crash scenarios. Furthermore, does our TMA have a CE marking, which ensures that it complies with all relevant European legal requirements.
In order to make the TMA more visible to motorists at night, it is possible to illuminate the TMA with multiple LED spotlights. For this we use a pneumatic LED lamppost.

Traffic Fleet: simple, accessible and efficient
For online control and management of your trailer fleet, EBO van Weel offers an online internet application, which is completely developed in-house. We enable you to manage your complete trailer fleet online via PC, laptop, tablet or smartphone.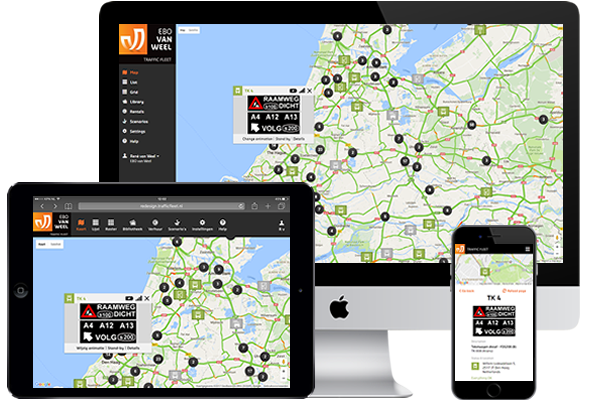 Get inspired!
Available options
Available in all RAL colours
Lamppost up to 5500 mm with two LED spotlights
Four alternating LED lights for enhanced visibility
Two additional 180 Ah batteries
Four LED spotlights on the upper frame
Two LED spotlights on the attenuator
Two LED spotlights for backing
Collision protection connected to the braking system of the truck. In case of a collision the parking brakes are activated.
Certified 3,500 KG tow bar including 12 Volt invertor for the lighting and 13-pole plug
Page selector for local control of the LED display
Specifications
Dimensions
Length

4.770 mm

Width

2.412 mm

Height transport mode

1.150 mm

Height operational mode

4.030 mm
Weight
Net weight

1.830 KG

Technically permissible maximum masses

1.900 KG

Technically permissible maximum static mass on the coupling point

100 KG
Electric system
Voltage

12 or 24 Volt

Batteries

2 pieces (standard semi-traction)

Power batteries

2x 230 Ah (standard)

Battery charger

230 Volt / 40 A
Lighting
Lightning

12 or 24 Volt (standard) - LED

Connection with the car

13-pole plug (standard)
Hydraulic system
Attenuator up-and-down movement

Hydraulic

Emergency control

Two valves located on the hydro unit

Hydro unit

2.000 Watt

Hydraulic oil

Tellus 15
Upper frame
Reflection

Class 3 according to your local specifications

Sign below arrow

According to your local specifications
LED display
Manufacturer

Swarco Futurit

Display resolution

80 x 80 pixels

Voltage

24 Volt

Power

195 Watt