VMS-trailer solar – VW 1350 HB
VMS-trailer solar – VW 1350 HB
The growing demand for traffic information in urban areas has challenged EBO van Weel in designing a VMS-trailer that is climate-neutral, compact and simple handling and control.  The VW 1350 HB is our solution. It is a spin-off of the VW 1700 S VMS-trailer, with its reduced size and increased simplicity as main differences.
Unique LED display: improved readability and saving 87% in energy consumption
The VW 1350 HB is delivered with a 80 x 80 (optionally 80 x 96) pixels full-colour LED display. This LED display is made in collaboration with the Austrian company Swarco Futurit and has been designed with the latest technology and is in accordance with  NEN-EN 12966.
The LED display has got an unique lens technology, which focuses the light and therefore is only readable from determined distances. Furthermore, the LED pixels that are not in use do not consume energy, which results in a maximum power output of 195 Watts. This is an energy reduction of 87% compared to conventional LED displays.
The carefully chosen combination of components prolongs the stand-alone time
An energy efficient LED display, the 200 Watts solar panels, the right solar charger and four matching 230 Ah batteries are all part of a carefully chosen combination that helps restrain the energy consumption and therefore prolongs the stand-alone time. Thanks to this configuration the VW 1350 HB is able to be operative with 50% active pixels from April through September without using external energy sources. This makes the VW 1350 HB unique amongst other VMS-trailers.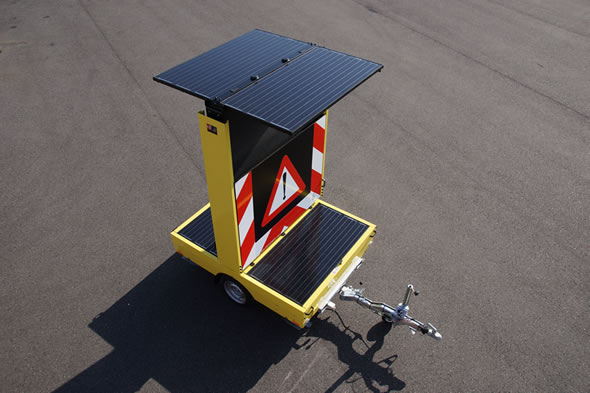 Simple and smooth
Simple and smooth were the starting points for the design of the VW 1350 HB. With hand operated jacks and hydraulic control of the LED display the VW 1350 HB is made ready for use in an instant. The 80 x 80 pixels LED display of this VMS-trailer can be extended to a height of 3800 mm.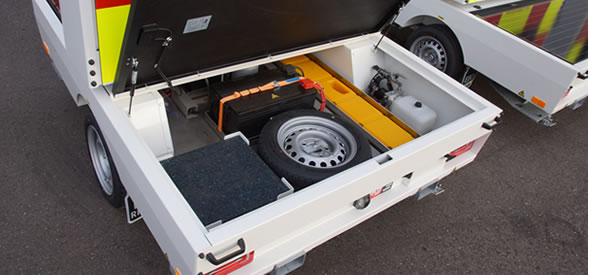 Produced in accordance with CE and EC regulations
Our VW 1350 HB is completely produced in accordance with EC regulations and therefore received a EC type approval for the axles and suspension, which makes it possible to apply for a registration number in all European countries. Furthermore, does the VW 1350 HB have a CE marking, which ensures that this VMS-trailer complies with all relevant European legal requirements.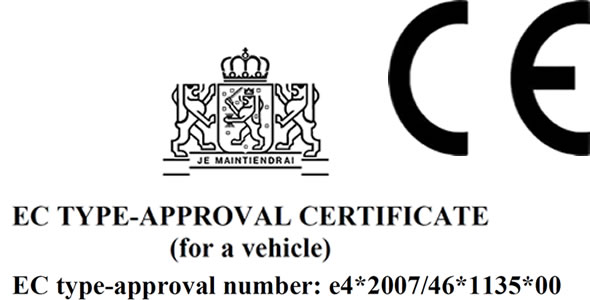 Manoeuvrability
Due to its compact size the VW 1350 HB is highly manoeuvrable and therefore offers a solution in urban areas with limited space, e.g. bicycle- and footpaths, and local and regional roads.
Its single axle and its weight of 1,050 kg makes the VW 1350 HB movable by a single person. The LED display can be fully rotated, which enhances the readability for the motorists.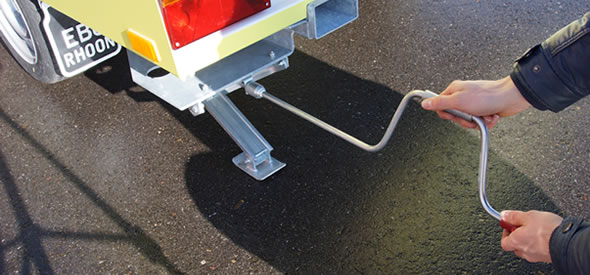 Traffic Fleet: simple, accessible and efficient
For online control and management of your trailer fleet, EBO van Weel offers an online internet application, which is completely developed in-house. We enable you to manage your complete trailer fleet online via PC, laptop, tablet or smartphone.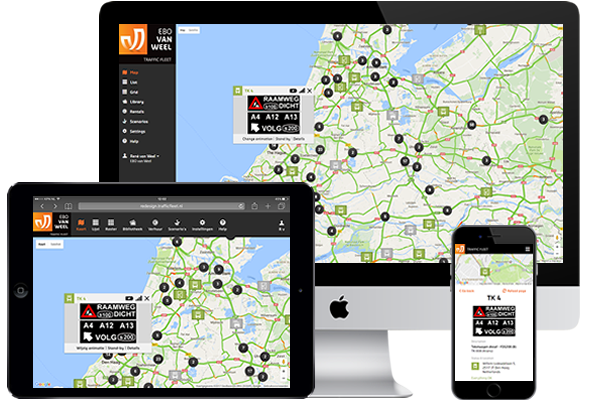 Get inspired!
Available options
Collapsible overrun brake
Two extra solar panels above the LED display
Available in all RAL colours
Two-tone spray painting
LED trailer lighting
Three portable rumble strips
One spare wheel
Four synthetic outrigger pads
Page selector for local control of the LED display
Specifications
Dimensions
Total length

3.510 mm

Length (overrun brake collapsed)

2.300 mm

Width

1.710 mm

Height transport mode

2.810 mm

Height operational mode

3.820 mm
Weight
Net weight

1.100 KG

Technically permissible maximum masses

1.300 KG

Technically permissible maximum static mass on the coupling point

100 KG
Axles and suspension
Axles

1x WAP - WAG 135B 1.350KG

Drawbar

WAP 17 / 17KS – 1.500 KG

Brakes

Drum brakes

Tires-wheel combination

195/50R13
Electric system
Voltage

24 Volt

Batteries

6 pieces (standard semi-traction)

Power batteries

6x 230 Ah (standard)

Battery charger

230 Volt / 40 A

Solar panels

2 pieces

Maximum power solar panels

200 Wp
Lighting
Lightning

12 Volt (standard) - LED optional

Connection with the car

13-pole plug (standard)
Hydraulic system
Support legs

4 pieces (manual)

Jockey wheel

1 piece (manual)

Upper frame

Hydraulically lifted

Emergency control

Bypass located on the hydro unit

Hydro unit

800 Watt

Hydraulic oil

Tellus 15
Upper frame
Reflection

Class 3 according to your local specifications

Sign below arrow

According to your local specifications
LED display
Manufacturer

Swarco Futurit

Display

80 x 80 pixels (96 x 80 pixels optional)

Voltage

24 Volt

Power

195 Watt
Other components
Storage space portable rumble strips

3 pieces (2000 x 225 x 30 mm)

Outrigger pads

4 pieces (400 x 400 x 40 mm)

Storage spare wheel

1 piece