Autodrip – vehicle mounted VMS
Autodrip – vehicle mounted VMS
Our vehicle mounted VMS, also known as Autodrip, is a variable-message sign (VMS) that is mounted to a vehicle of road supervisors. Its main objective is to inform, warn and advise motorists during calamities on the provincial roads and highways in a safe way. Our Autodrip is produced according to the specifications of Rijkswaterstaat (Dutch national infrastructure and environment agency).
Increase safety during incident management
When a sudden traffic incident happens a road supervisor will be the first to re-organise the traffic. Nevertheless, incident management is mostly done with simple traffic cones and barriers, which do not inform approaching motorists in advance and could therefore cause dangerous situations.
EBO van Weel aims to increase the level of safety for both the motorists and the road supervisors. Therefore, the vehicle mounted VMS enables the road supervisor to avoid hazardous circumstances by making a traffic incident visible from 500 metres in advance. Informed by a full-colour display with animated traffic signs and text, approaching motorists will be warned beforehand.

Solution 1: all functionalities controlled with one application within 100 metres of the vehicle
For safety reasons it is absolutely necessary for road supervisors to leave their vehicle as soon as they arrive at a traffic accident. With this in mind, EBO van Weel developed the Autodrip app, which is available for IOS, Android and Windows tablets and can control all functions of the Autodrip like the emergency beacons, lift-unit and LED display within 10 seconds. This is possible within 100 metres of the vehicle. Therefore, with this app it is not necessary for the road supervisors to be in their vehicle, which significantly decreases the chance of a collision with a road supervisor.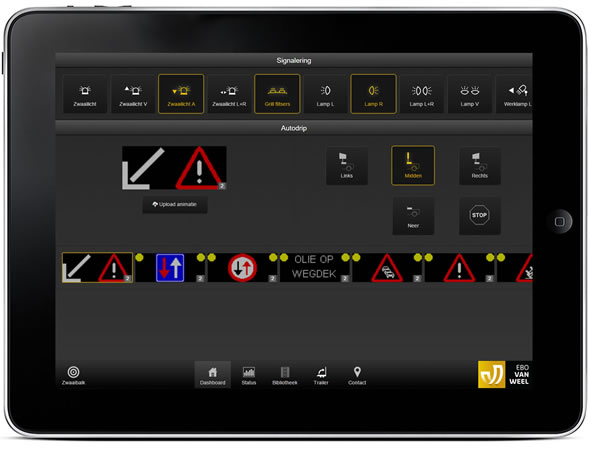 Solution 2: motorists are warned beforehand
A vehicle mounted VMS will usually be depreciated within 10 years. Meanwhile, significant changes will take place with reference to Smart Mobility. Vehicle-to-Vehicle and Vehicle-to-Infrastructure communication will be introduced to the motorists. Vehicles will communicate mutually, but also with traffic control systems.
The on-board computer of our vehicle mounted VMS is prepared for future integration of data exchange with other motorists' on-board computers, traffic control systems and the traffic management centre. This is a matter of a single software update.

Connected to the traffic management centre – a real-time overview of the road supervisors
Via Traffic Fleet (our online fleet management system) a secured connection can be set up with the traffic management centre. This makes it able to control the complete fleet of vehicle mounted VMS's in real-time. Actual status information and potential errors are detected and reported.
Moreover, the availability of the road supervisor can be indicated with the tablet. This enables the traffic management centre to be informed about the current activities of their road supervisors.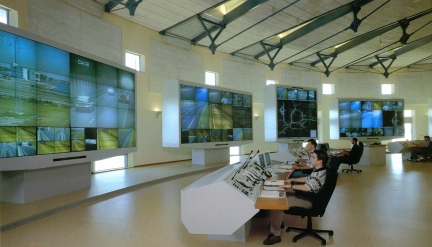 Get inspired!
Available options
On-board control panel assembly by EBO van Weel
Larger 80 x 80 pixels LED display
Amber LED emergency beacons, 360 degrees view
LK mounting set for 3.5 cm high roof mounting
One GO112 Touch Screen panel, 4.5 inch foot mounting
Connection with traffic management centre
Specifications
Electric system
Voltage

12 Volt

Batteries

1 piece

Power batteries

20 Ah

Battery charger

Through vehicle
Electrical lift-unit
Display lift

Electrical

Power

276 Watt
Display
Manufacturer

Swarco Futurit

Resolution

96 x 40 pixels (80 x 80 pixels optionally)

Voltage

24 Volts

Power

90 Watts
Other components
Wi-Fi range

Approx. 100 metres

Control

Traffic Fleet tablet application (optionally online Traffic Fleet)

Emergency beacons

Optional