Traffic warning trailer – VW 1300 P
Traffic warning trailer – VW 1300 P
A traffic warning trailer is used to optimise the traffic flow, reduce the chance of traffic jams and increase the safety of road workers and motorists in case of calamities, roadworks or other reasons that require the motorists to be informed. The traffic warning trailer can be used both inside and outside urban areas, as well as on highways.
Good control increases safety
Our traffic warning trailer can be operated and transported without effort. It is a single axle trailer and is therefore lightweight.
The traffic warning trailer is equipped with emergency control, which makes it possible to perform all hydraulic operations without power from the vehicle and therefore the trailer can be made ready for transport in all circumstances.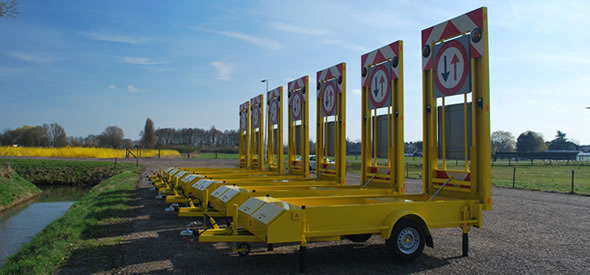 Produced in accordance with CE, EC and CROW regulations
Our arrow warning trailer – solar is completely produced in accordance with CROW directives, guaranteeing the quality of e.g. the reflection, emergency control and hydraulic components. Furthermore, do our arrow warning trailers have an EC type approval for the axles and suspension, which makes it possible to apply for a registration number in all European countries, and a CE marking, which ensures that our arrow warning trailer complies with all relevant European legal requirements.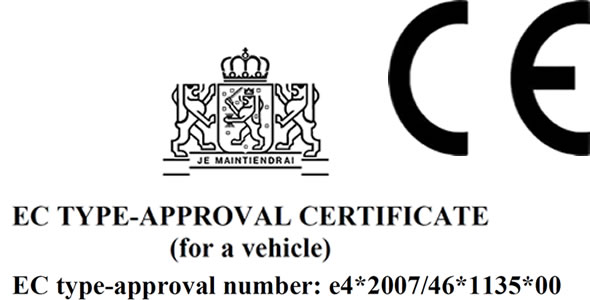 All configurations possible
Four alternating lamps, multiple traffic signs and a supplementary traffic sign are installed on the frame of the traffic warning trailer. Which (supplementary) traffic signs are installed on our traffic warning trailer is up to our customers. Optionally, two additional alternating lamps can be mounted on the rear side of the frame for enhanced visibility for approaching motorists.
Furthermore, it is possible to choose for a remotely controlled LED arrow. Alternating LED lights enhance the visibility of the traffic warning trailer, which results in a safer situation for road workers.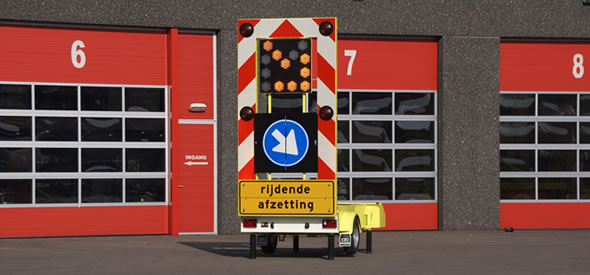 Fully hydraulic
The frame and jacks of the traffic warning trailer are hydraulically operated, which decreases the set-up time of the trailer when arriving at roadworks and calamities. The hydraulic actions are carried out from the vehicle using a joystick or radio-controlled remote, which increases the safety during the road cordon.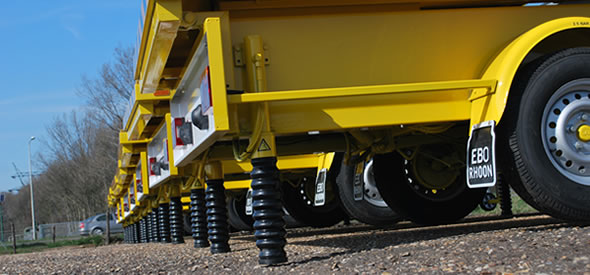 Traffic Fleet: simple, accessible and efficient
For online control and management of your trailer fleet, EBO van Weel offers an online internet application, which is completely developed in-house. We enable you to manage your complete trailer fleet online via PC, laptop, tablet or smartphone.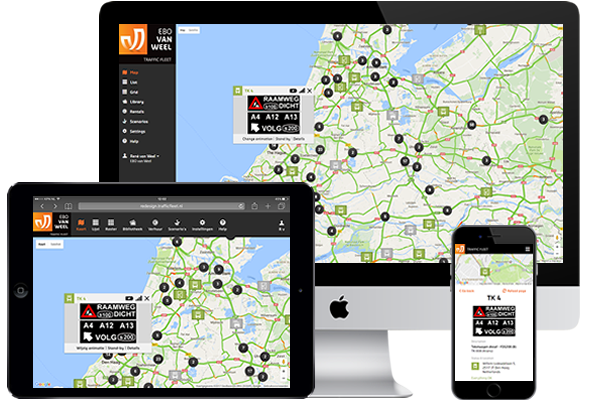 Get inspired!
Available options
Solar panel to make the trailer a stand-alone
Upper frame arrow with 13 LED lights (with or without a remote control)
All combinations of upper and lower traffic signs
Various rectangular supplementary traffic signs
LED trailer lighting
Three portable rumble strips
One spare wheel
Four synthetic outrigger pads
Page selector for local control of the LED display
Specifications
Dimensions
Length

4.770 mm

Width

1.770 mm

Height transport mode

1.150 mm

Height operational mode

4.030 mm
Weight
Net weight

750 KG

Technically permissible maximum masses

1.300 KG

Technically permissible maximum static mass on the coupling point

100 KG
Axles and suspension
Axles

1x WAP - WAG 135B 1.350 KG

Drawbar

WAP 15 / 15.1 – 1.500 KG

Brakes

Drum brakes

Tires wheelcombination

175R14C
Electric system
Voltage

12 Volt

Batteries

2 pieces (standard semi-traction)

Power batteries

2x 230 Ah (standard)

Battery charger

230 Volt / 40 A

Solar panels (optional)

1 piece

Maximum power solar panels

200 Wp
Lighting
Lightning

12 Volt (standard) - LED optional

Connection with the car

13-pole plug (standard)
Hydraulic system
Support legs

4 pieces (double-acting)

Jockey wheel

1 piece (double-acting)

Upper frame

Hydraulically lifted

Emergency control

Two valves located on the hydro unit

Hydro unit

2.000 Watt

Hydraulic oil

Tellus 15
Upper frame
Reflection

Class 3 according to your local specifications

Upper traffic sign

Up to 8 traffic signs - all configurations possible

Lower traffic sign

Up to 8 traffic signs - all configurations possible

Supplementary traffic sign

All texts possible
Arrow unit
LED

13 alternating LED lamps

Voltage

12 Volt
Other components
Storage space portable rumble strips

3 pieces (2000 x 225 x 30 mm)

Outrigger pads

4 pieces (400 x 400 x 40 mm)

Storage spare wheel

1 piece (175R14C)

Storage space cones

5 pieces with heavy foot