VMS-trailer solar – VW 750
VMS-trailer solar – VW 750
The population in the cities increases and so does the request for mobility. Therefore there is a increasing demand amongst traffic engineers for smart tools to manage the traffic during accidents, temporary diversions and events.
The compact size of the VW 750 in combination with Traffic Fleet make this VMS-trailer ideally suited to urban areas.
Why we developed the VW 750
The request for traffic information in the inner urban areas increases and so does the request for enhanced mobility. This challenged us to develop a new VMS-trailer to satisfy these requirements: the VW 750, which is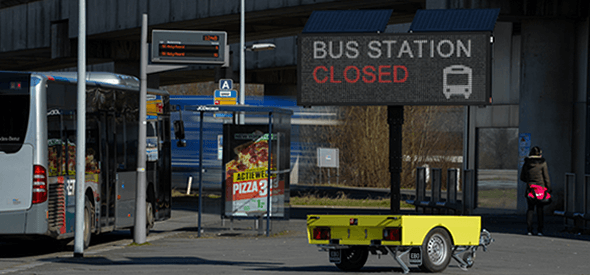 Display dynamic traffic information on your VMS-trailers
Traffic Fleet enhances the deployability of the VMS-trailer due to the availability of a wide range of up-to-date traffic information.
Traffic Fleet collects data from several sources, i.e. Floating Car Data (FCD), public transport, traffic control centres and other APIs, and makes this data available for dynamic animations.
With a few clicks in Traffic Fleet you can activate dynamic animations, displaying i.e. travel time information, the fastest route to a certain location, rail travel information or the availability of parking spots in a parking garage.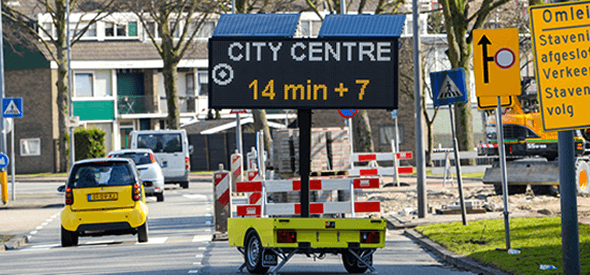 A LED display that is more efficient than your TV
The combination of a low energy demand and solar power is perfect for a carbon neutral VMS-trailer.
The LED display uses 40 Watt with 50% active pixels and 90% brightness. This is possible thanks to the Swarco Futurit LED display, which is in accordance with the NEN-EN 12966 an is CE certified.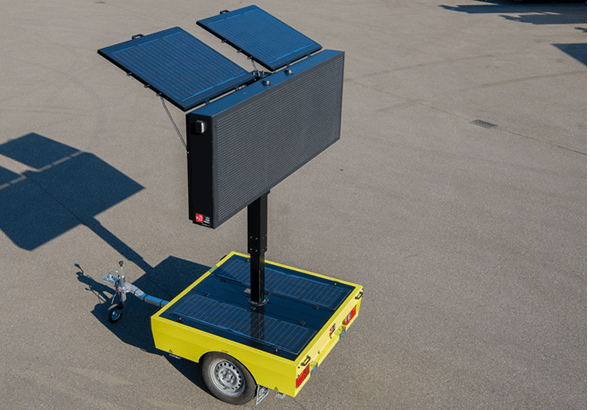 No driving licence BE needed
The VW 750 weighs 710 kg and can therefore be driven with merely a driving licence B. The flooring of the bodywork acts as a sub-frame, which gives additional strength and stiffness. This enabled us to stay away from a traditional steel frame, therefore cutting down many kilos.
Every motorist with a driving licence B is allowed to attach the VW 750 to its tow bar and drive it around on the public roads.
Traffic Fleet: simple, accessible and efficient
For online control and management of your traffic equipment fleet, EBO van Weel offers an online internet application, which is completely developed in-house. We enable you to manage your complete trailer fleet online via PC, laptop, tablet or smartphone.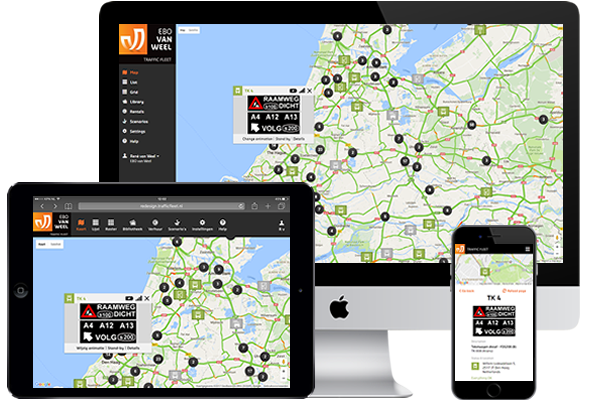 Get inspired!
Available options
Larger LED display – 112 x 40 pixels
Available in all RAL colours
LED trailer lighting
Two solar panels on the frame covers
Two additional solar panels on the back LED display
One spare wheel
Four synthetic outrigger pads
Specifications
Dimensions
Total length

3.091 mm

Width

1.485 mm

Height transport mode

1.865 mm

Height operational mode

2.954 mm
Weight
Net weight

710 KG

Technically permissible maximum masses

750 KG

Technically permissible maximum static mass on the coupling point

20 KG
Axles and suspension
Axles

1x WAP - WAG 135B 1.350KG

Drawbar

Unbraked

Brakes

Unbraked / towing vehicle

Tires-wheel combination

195/50R13
Electric system
Voltage

24 Volt

Batteries

4 pieces (standard semi-traction)

Power batteries

4x 230 Ah (standard)

Battery charger

230 Volt / 40 A

Solar panels

4 pieces (optional)

Maximum power solar panels

354 Wp
Lighting
Lightning

12 Volt (standard) - LED optional

Connection with the car

13-pole plug (standard)
Hydraulic system
Support legs

4 pieces (manual)

Jockey wheel

1 piece (manual)

Display telescopic tube

Hydraulically lifted

Emergency control

Bypass located on the hydro unit

Hydro unit

800 Watt

Hydraulic oil

Tellus 15
LED display
Manufacturer

Swarco Futurit

Display

80 x 40 pixels (112 x 40 pixels optional)

Voltage

24 Volt

Power

80 Watt
Other components
Storage space portable rumble strips

3 pieces (2000 x 225 x 30 mm)

Outrigger pads

4 pieces (400 x 400 x 40 mm)

Storage spare wheel

1 piece