A mobile VMS is used to inform, warn and advise road users in case of calamities, roadworks, events or other reasons for which road users need to be informed. EBO van Weel produces four types of mobile VMS's: three for roadside use and one for inner-city use. Mobile VMS type 3 can be both stationary and mobile.
Used for prolonged period of to manage crowds
The mobile VMS is mainly used when the duration of use is longer than a month. It is perfectly usable to be placed in the roadside and, thanks to its height, has a superb visibility. With a single semi-trailer truck 6-8 mobile VMS's can be transported, providing a large area or multiple locations with up-to-date information.
The excellent visibility of a mobile VMS is also convenient for crowd management. Many events use our mobile VMS with Traffic Fleet to quickly and efficiently direct large numbers of people.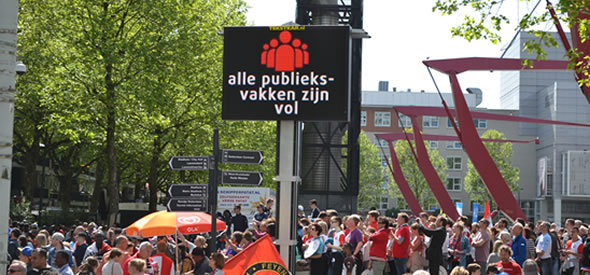 Unique LED display: improved readability and saving 87% in energy consumption
Our mobile VMS is delivered with a 112 x 80 pixels full-colour LED display. This LED display is made in collaboration with the Austrian company Swarco Futurit and has been designed with the latest technology and is in accordance with  NEN-EN 12966.
The LED display has got an unique lens technology, which focuses the light and therefore is only readable from determined distances. Furthermore, the LED pixels that are not in use do not consume energy, which results in a maximum power output of 195 Watts. This is an energy reduction of 87% compared to conventional LED displays.
Mobile VMS Type 3C – in stationary, mobile or rotatable configuration
Our mobile VMS Type 3C can be delivered as stationary, mobile or rotatable VMS. In the stationary configuration, the LED display is mounted on a stationary post, with the display at least 2.75 meters above the ground.
In the mobile configuration, the display is mounted on a telescoping post with a bottom counterweight. This makes the mobile VMS easy to transport.
Furthermore, we deliver fully rotatable VMS's. This is possible by means of a slewing ring in the foot of the mobile VMS.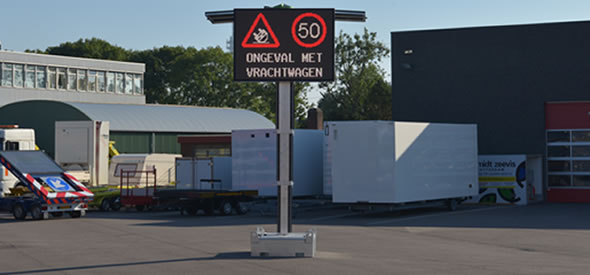 Traffic Fleet: simple, accessible and efficient
For online control and management of your trailer fleet, EBO van Weel offers an online internet application, which is completely developed in-house. We enable you to manage your complete trailer fleet online via PC, laptop, tablet or smartphone.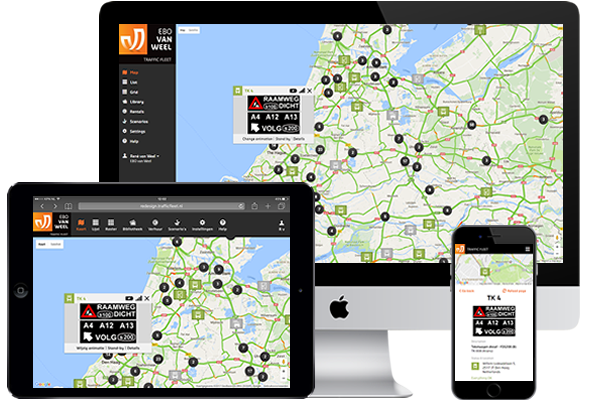 Get inspired!
Specifications
Electric system
Voltage

24 Volt

Batteries

8 pieces (standard semi-traction)

Power batteries

8x 230 Ah (standard)

Battery charger

230 Volt / 70 A

Solar panels

5 pieces

Maximum power solar panels

200 Wp
LED display
Manufacturer

Swarco Futurit

Display

112 x 80 pixels

Voltage

24 Volt

Power

195 Watt